fair ground transfers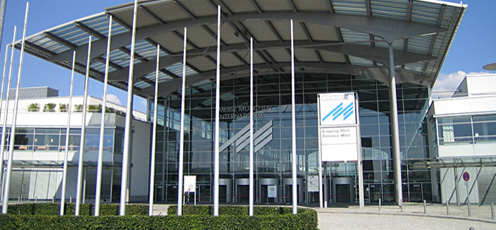 Are you visiting an international trade fair in Munich?
In addition to being on the move in the halls for hours at a time, you also need to maintain existing contacts, acquire new ones and leave an impression. This is good enough reason to make sure the Munich trade fair transfer there and back is as comfortable as possible.
Messe München – International trade fair competency in Munich
Messe München has 3 locations
Neue Messe München,
ICM Internationales Congress Center München und
MOC Veranstaltungscenter München
which altogether make up the largest open space of all trade fair companies in Germany, and organises around 40 specialist trade fairs annually for investment and consumer goods, in addition to new technologies, and is one of the largest trade fair companies worldwide.
Trade fair transfer - reliable transport from airport to trade fair
Businesstaxi-Munich trade fair transfers collect you from the airport on time and take you directly to the entrance of the relevant trade fair, your hotel or any other required event location. You won't need to contend with public transport or long waits at car rental or car sharing counters. Our Munich trade fair transfer service has the perfect vehicle for you, whether you are travelling alone or with a group; airport taxi, limousine service or bus transfer – we make all trade fair transfers possible! Munich trade fair transfers also provide an ideal solution for looking after your international business clients in a professional manner on their way to Messe München.
We will be happy to answer any queries to provide a personalised trade fair transfer and to create a relaxed atmosphere for guests and customers.
Book a Munich trade fair transfer with us for yourself, your employees or customers! Simple online booking with Businesstaxi-Munich allows you to quickly and easily book your Munich trade fair transfer up to 24 hours in advance. We would also be delighted to hear from you by telephone or email.
Enjoy customised service and the reliability of Munich trade fair transfers. See you soon Bauma, Ispo and Expo-Real!
Book your trade fair transfer online