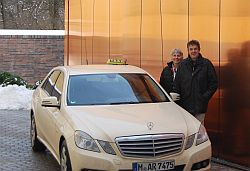 In 1986, the son and current owner, Axel-René Fink, took over the company together with his wife. The business was subsequently expanded and developed to become a service provider with the highest standards. With a strong focus on the requirements of our business clients – reliable and punctual airport transfers, high-quality vehicles, discreet drivers and disposition, journey completion and monthly invoicing under one roof – the company was transformed into a modern, customer-oriented, customised service provider. With fast, seamless interplay between disposition and each employee, all of our customers enjoy the benefits, both today and in the future.
The crucial step in 2008 to offer a diverse range of services online was a logical and successful step in interpreting a classic taxi company in a new light.
The classic elements of a family business, such as solidarity, modesty and fairness towards customers and employees alike are practiced and respected. We are proud to have remained an entirely family-run business to this day. The next generation is already preparing to take on the reigns for the family business in the future.
We aim to combine the best of past and present for our customers!